A stunning, intimate and unflinching portrait of free soloist climber Alex Honnold, as he prepares to achieve his lifelong dream: climbing the face of the world's most famous rock - the 3,200-foot El Capitan in Yosemite National Park … without a rope.
Celebrated as one of the greatest athletic feats of any kind, Honnold's climb set the ultimate standard: perfection or death. Succeeding in this challenge places his story in the annals of human achievement. Free Solo is an edge-of-your seat thriller and an inspiring portrait of an athlete who challenges both his body and his beliefs on a quest to triumph over the impossible, revealing the personal toll of excellence. As the climber begins his training, the armour of invincibility he's built up over decades unexpectedly breaks apart when Honnold begins to fall in love, threatening his focus and giving way to injury and setbacks.
Free Solo is directed by award-winning documentary filmmaker E. Chai Vasarhelyi and world-renowned photographer and mountaineer Jimmy Chin. They succeed in beautifully capturing deeply human moments with Honnold as well as the death-defying climb with exquisite artistry and masterful, vertigo-inducing camerawork. The result is a triumph of the human spirit that represents what The New York Times calls "a miraculous opportunity for the rest of us to experience the human sublime."
---
ALSO ON TODAY
Everybody Knows
Showing Today at:
Javier Bardem, Penélope Cruz, and Ricardo Darín are at their very best in this captivating tale of suspicion, money, and kin from Iranian director Asghar Farhadi (A Separation, The Salesman).
Unquiet Graves
Showing Today at:
Unquiet Graves details how members of the RUC and UDR were centrally involved in the murder of over 120 innocent civilians.
The Kindergarten Teacher
Showing Today at:
Maggie Gyllenhaal gives a career-best performance as a kindergarten teacher who finds herself in an ethical quagmire after discovering the poetic talents of a precocious student.
Ray & Liz
Showing Today at:
In this astonishingly personal film, Richard Billingham delves into his Black Country upbringing to recreate visceral family memories and desperate living in Thatcher's Britain.
The Favourite
Showing Today at:
His third English-language film in four years sees Yorgos Lanthimos (The Lobster, The Killing of a Sacred Deer) on rollicking, virtuoso form with Olivia Colman, Emma Stone and Rachel Weisz revelling in the wit of his royal court life.
Border
Showing Today at:
Prepare for a love story like no other in this audacious Scandinavian fantasy, based on a novel by the writer of Let the Right One In.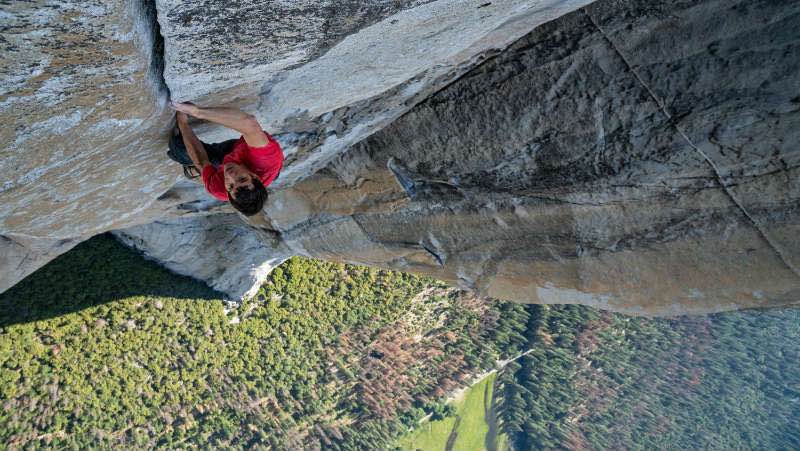 Certificate12A
Year2018
GenreDocumentary
DirectorE. Chai Vasarhelyi & Jimmy Chin
LanguageEnglish
CountryUSA
Running Time1HR 40MINS
SeasonMain Programme
---
YOU MIGHT ALSO LIKE
Three Identical Strangers
Three Identical Strangers tells the astonishing story of three men who make the chance discovery, at the age of 19, that they are identical triplets, separated at birth and adopted to different parents.
The Camino Voyage
A crew including musicians Glen Hansard and Brendan Begley, artist Liam Holden, stonemason Brendan Moriarty, and the late writer and poet Danny Sheehy embark on a voyage to the Camino by sea.