The 6.20pm screening on Thursday 10 January will feature descriptive subtitling.
His third English-language film in four years sees Yorgos Lanthimos (The Lobster, The Killing of a Sacred Deer) on rollicking, virtuoso form with Olivia Colman, Emma Stone and Rachel Weisz revelling in the wit of his royal court life.
It's the early 18th century, England is at war with France and Queen Anne's (Olivia Colman) poor health finds her relying on her doting friend Lady Sarah (Rachel Weisz). When Sarah's cousin Abigail (Emma Stone) arrives at the Palace, her charm soon wins the Queen's attentions and the shrewd girl sees a way to restore her social status, lost through her father's disastrous wagers. With stakes of the heart high, the two women soon become rivals for the Queen's affections in a wickedly funny game of one-up-womanship.
This is riotous, gleeful and supremely intelligent filmmaking with every department in exquisite chorus: Fiona Crombie's sets offer a spectacular canvas for much ribald jocularity; costume designer Sandy Powell boldly updates court classics (with the odd bit of beautiful kink); while Robbie Ryan's occasionally bulbous lens bears witness to strange goings-on. Yet the pinnacle of so many delights is a trio of performances from Colman, Stone and Weisz. They fizz through the repartee that's set at a breakneck pace by Lanthimos, and screenwriters Deborah Davis and Tony McNamara. Along with a terrific supporting cast, including Nicholas Hoult and Mark Gatiss, they deliver pitch perfect physical comedy and clever witticisms. Let them eat... pineapples!
- Tricia Tuttle, BFI London Film Festival
---
ALSO ON TODAY
Everybody Knows
Showing Today at:
Javier Bardem, Penélope Cruz, and Ricardo Darín are at their very best in this captivating tale of suspicion, money, and kin from Iranian director Asghar Farhadi (A Separation, The Salesman).
Unquiet Graves
Showing Today at:
Unquiet Graves details how members of the RUC and UDR were centrally involved in the murder of over 120 innocent civilians.
The Kindergarten Teacher
Showing Today at:
Maggie Gyllenhaal gives a career-best performance as a kindergarten teacher who finds herself in an ethical quagmire after discovering the poetic talents of a precocious student.
Ray & Liz
Showing Today at:
In this astonishingly personal film, Richard Billingham delves into his Black Country upbringing to recreate visceral family memories and desperate living in Thatcher's Britain.
Free Solo
Showing Today at:
A stunning, intimate and unflinching portrait of free soloist climber Alex Honnold, as he prepares to achieve his lifelong dream: climbing the face of the world's most famous rock - the 3,200-foot El Capitan in Yosemite National Park … without a rope.
Border
Showing Today at:
Prepare for a love story like no other in this audacious Scandinavian fantasy, based on a novel by the writer of Let the Right One In.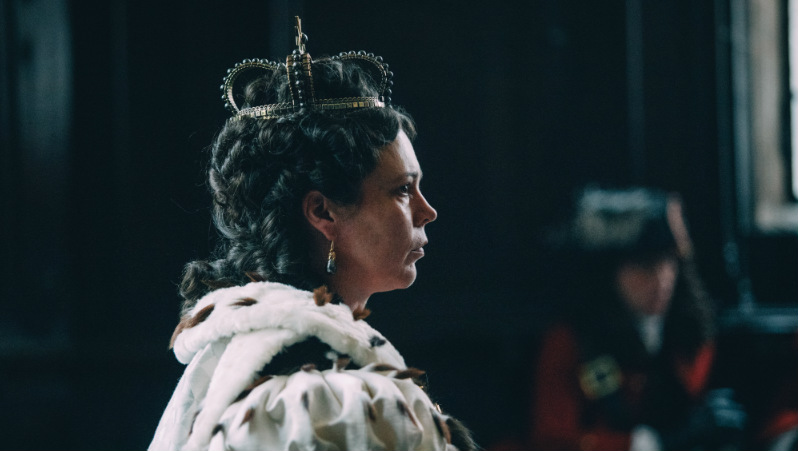 Certificate15
Year2018
GenreBiography, Comedy, Drama
DirectorYorgos Lanthimos
LanguageEnglish
CountryIreland, UK, USA
Running Time1HR 59MINS
SeasonMain Programme
---
YOU MIGHT ALSO LIKE
Colette
Forget what you know about costume dramas. This witty, Belle Époque-era biopic stars Keira Knightley and Dominic West as literary couple Colette and Willy, whose relationship rewrote social and gender rules.
Mary Queen of Scots
Mary Queen of Scots is a retelling of the turbulent life of Mary Stuart (Saoirse Ronan), based on the book "Queen of Scots: The True Life of Mary Stuart" by Dr. John Guy.