Monday Medicine: Animals
By Michael Delaney
18 May 2020
In his last blog before furlough, Michael Delaney looks at the career of Crystal, an actor whose name you may not recognise but whose grin you definitely will.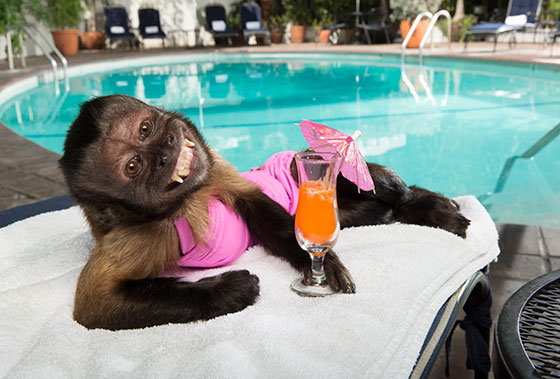 Meet Crystal. She is 26 years old. She has short, black hair and a wide smile. Her interests include exercise – climbing, specifically – and eating fresh fruit. Crystal has appeared in some of the most successful franchises of the last two decades, including The Hangover, Night at the Museum and Dr. Dolittle. However, if you do not recognise Crystal by her C.V. alone don't worry because, despite being a long-standing actress with numerous credits to her name and an overall box office gross of $2.5bn, she is remains largely unknown to even the most seasoned cineaste. Because Crystal is a monkey.
Residing in Los Angeles, tufted capuchin Crystal began her acting career with a role as "Monkey" in the Brendan Fraser comedy George of the Jungle. Despite her inexperience, she soon proved herself a chimp of the old block. Unafraid of typecasting, she followed up her George... bow with a role as "Drunk Monkey" in Dr. Dolittle and its sequel, the appropriately named Dr. Dolittle 2, "Monkey with Garage Band" in American Pie and, later, "Donald the Monkey" in the Kevin James tour-de-force Zookeeper.
However, it was her role as Dexter/Able in the Night at the Museum series that made audiences go bananas. As the mischievous mammal who cheekily thwarts Ben Stiller's character at every opportunity, Crystal brought some much-needed comic relief to the film. Little would Crystal know that her career was about to take a down swing.
Taking a role as "Drug Dealing Monkey" in The Hangover Part 2 was a fur cry from what she had done before and struck many as an attempt by Crystal to explore more demanding, creatively fulfilling roles. Instead, her drug dealing, cigarette-smoking antics did not play well with her peers and, according to The Telegraph, it "dented Crystal's reputation in Hollywood as a consummate monkey professional". Even her former co-stars turned against her, with Ben Stiller categorically stating: "I really dislike the monkey. There's no way to feel great about having a monkey slap your face on any level."
With Crystal's name deriving negative connotations on the cinematic ape vine, she turned to television. Having previously had guest roles on shows such as Malcolm in the Middle and The Big Bang Theory, she took a starring role on a new show called Animal Practice. A sitcom about a vet who loves pets but hates their owners, Animal Practice was heralded as the small screen's next big thing. Hopes were so high that Crystal commanded a fee of $12,000 per episode. The show was cancelled after nine episodes.
Since Animal Practice, Crystal has appeared on TV series Community as a character named "Annie's Boobs", returned to the Night at the Museum franchise to reprise her most well-known role and starred in pistachio commercials ("Wonderful Pistachios – Get Crackin'!"). With all the difficulties, it would be easy for Crystal to give up and retire to the nearest tree, reflecting on a career that many humans cannot dream of having. However, we have a feeling this tail is far from over and we are curious to see what this George does next.
Sources:
https://www.telegraph.co.uk/films/0/marcel-keiko-whatever-happened-film-tvs-famous-animal-stars/crystal-hangover/
https://www.vulture.com/2012/08/crystal-the-monkey-money-salary.html