Our City on Celluloid: Odd Man Out
17 January 2022
As we look forward to the release of Kenneth Branagh's Belfast at QFT, LUMI programmer Fionntán Macdonald takes a look back at the city's storied history on the silver screen. In this article he discusses one of Belfast's more obscure and unappreciated precursors, Odd Man Out.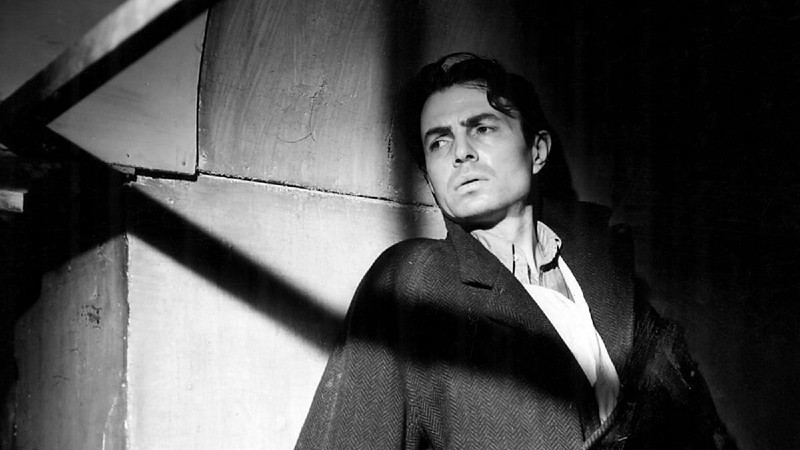 Odd Man Out is one of the earliest examples of a feature film set in Northern Ireland. Cited by both Martin Scorsese and Roman Polanski as an inspiration for their work, this is a film noir with wide reaching impact.
Carol Reed filmed large portions of this film in west Belfast and, in fact, a lot of effort appears to have gone into geographical and cultural authenticity in the production design. Notable Belfast landmarks are visible throughout and the decision to shoot on location aids greatly in the film's believability, despite the muddled accents on display: a strange mix of authentic Belfast, affected Irish and English elocution which you'll have to learn to zone out as the story progresses.
Despite the confused performances of the main cast, a Belfast-based cinephile can still find some great representation here. The film's extras and small speaking roles are purely local and lend some much-needed naturalism to the ensuing drama, as well as a particularly charming recurring gag wherein a flock of local boys impersonate the central figures. The late Cyril Cusack also delights as an ill-fated accomplice of James Mason's Johnny, and cuts through the airs-and-graces of the other seasoned performers with charismatic credibility (and nails the accent, unlike the higher billed players).
Regardless of the anachronistic performances and inaccuracies on display, the film very much succeeds as a time capsule of old Belfast. From the now defunct tram system, to regrettably paved over cobbles, right down to an exact recreation of Great Victoria Street's iconic Crown Bar, this film will have an air of nostalgia for the older generation while providing an insight into the architecture of our shared past for the contemporary audience. The recreation of the Crown Bar is so accurate that any interested party could venture to the current bar and step right into this film's world.
While the film immediately identifies itself as non-political, the core of the screenplay also captures something authentic about a community in conflict: a desire for neutrality among the populace. Neither the film nor its characters vilify or vindicate its pivotal figure, or the underground "organisation" he represents (a thinly veiled stand in for political dissidents). Reid's style suits this subject matter, as his propensity for shooting in small, shadowy rooms is befitting off a clandestine organisation.
Released two years before the seminal The Third Man, Reed is yet to veer into the semisurreal dutch angles and exaggerated chiaroscuro that defined his masterpiece, yet the development of Reed's later style can be observed here with his signature silhouettes utilised in the film's heavily backlit night scenes. However, subtlety should not be mistaken for a lack of visual flare. Reed expertly plays with perception as lighting cues signal shrewd shifts from objective observation to subjective point of view, giving Mason's character significant depth.
In some ways the film can be seen as a precursor to the influx of large scale productions to Northern Ireland. It's remarkable that the potential for real stories in our community was recognised by such a prominent talent as Reed at such an early stage, and significant that the backdrop of Belfast was used for an apolitical thriller. The unfortunate reality of our historical conflicts is that our potential was disrupted for so long. Northern Ireland was long seen locally and internationally as an arena of social unrest that would impede any production worth undertaking. What this film understood, and what we see taking shape now, is that our civic quandaries have facilitated human stories that can be viewed across the divide.
Odd Man Out is a trailblazer in this and various other regards, and is well deserving of a revisit in preparation for a new wave of films celebrating our city.
- written by LUMI programmer Fionntán Macdonald