Martin Scorsese's ninth collaboration with Robert De Niro finds the master filmmaker returning to the genre he has helped define, with a mystery that has never been solved.
Martin Scorsese, the undoubted king of the gangster genre, returns to home territory with this sprawling story of Frank Sheeran, a key figure in the American mafia. Robert De Niro plays Sheeran in his dotage, recalling the key moments in his career, especially the events leading up to the disappearance of Jimmy Hoffa (Al Pacino).
Using digital de-ageing, the trifecta of Pacino, De Niro and Joe Pesci (out of retirement here for Scorsese) play these complex men at all ages of their lives, from recruitment into the mob to last days. See this brilliant, long-awaited passion project from one of the saints of cinema on the big screen.
Please note: there will be no ads before the screenings of The Irishman and screenings will start at the advertised time.
---
ALSO ON TODAY
The Peanut Butter Falcon
Showing Today at:
The spirit of Mark Twain lives on in this effortlessly charming buddy movie about a young man in pursuit of his dreams.
Outburst: Trouble + Discussion
Showing Today at:
A 1971 BBC documentary about love across the religious divide of Northern Ireland is the starting point of this heart-breaking story of a woman reuniting with her estranged father after many years.
After the Wedding
Showing Today at:
Julianne Moore and Michelle Williams anchor this moving drama of secrets and connections.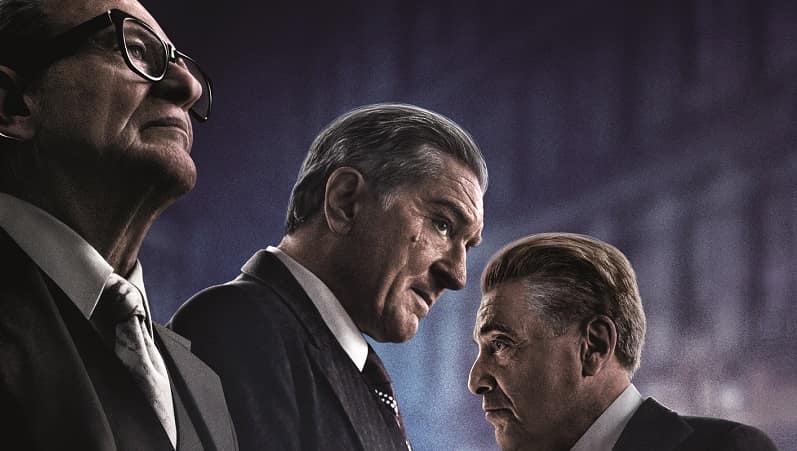 Certificate15
Year2019
DirectorMartin Scorsese
LanguageEnglish
CountryUSA
Running Time3HR 29MINS
SeasonMain Programme
---
YOU MIGHT ALSO LIKE
Marriage Story
In a career full of remarkable highpoints (The Squid and the Whale, Frances Ha, The Meyerowitz Stories…), here is another dizzying high from Noah Baumbach. It's also his most personal yet.
Real to Reel: The Conversation
Francis Ford Coppola's The Conversation is a bleak study of electronic surveillance and the threat of new technologies, told through the private, internalised life of a lonely and detached surveillance expert (Gene Hackman).