Cinema Beyond The Ordinary
05 June 2023
Did you spot us on the bus? Or did Barbie on a billboard catch your eye?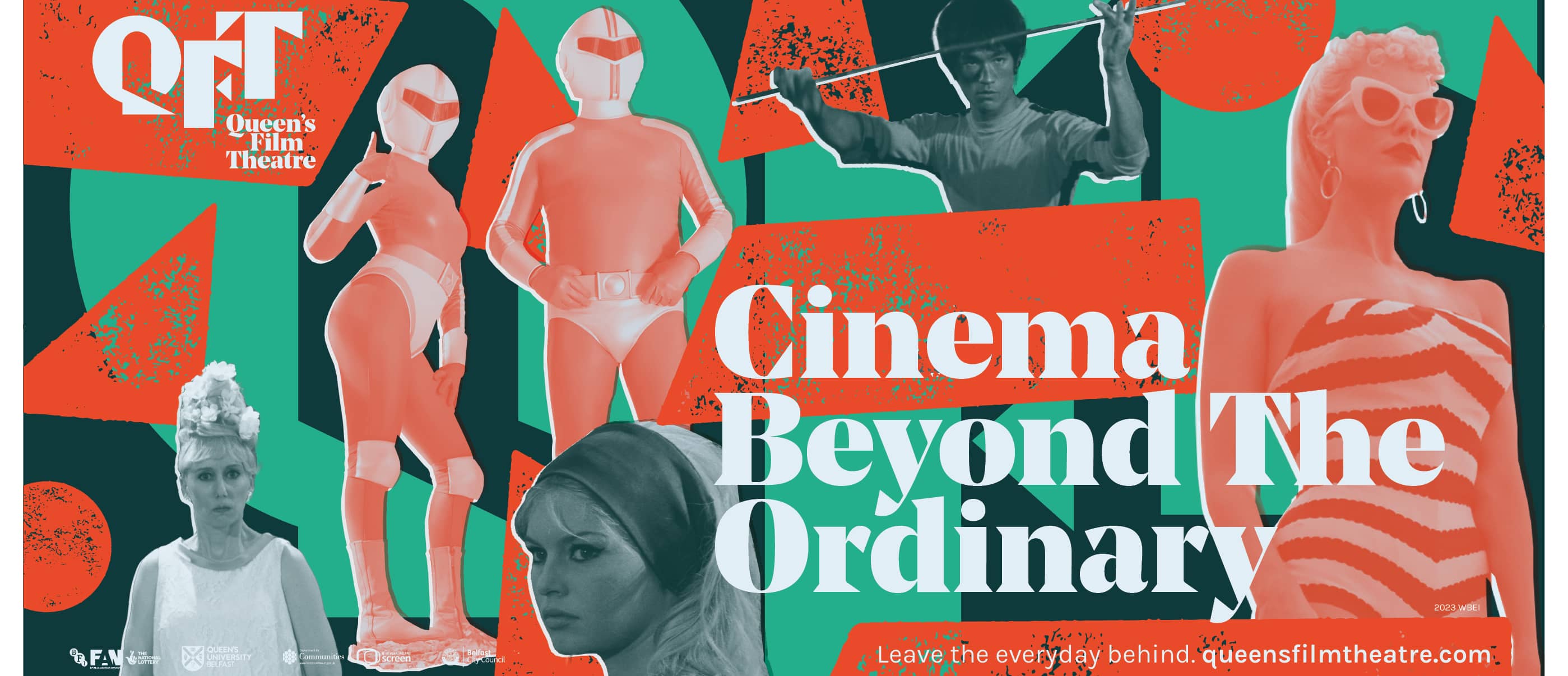 Maybe you know us already but if you don't, we're QFT (Queen's Film Theatre) and we're all about transporting you out of your everyday with world-class cinema.
When you step through the door of QFT we promise to take you somewhere else, to see the world through someone else's eyes, or see new worlds altogether.
Think you know us?
QFT is only for Queen's students
❌ Nope. QFT is open to everyone, all year round (we're only closed on 12th July and 25th December). But if you're 26 or under you can join LUMI for free for £4.50 tickets any day of the week. Mature students (from Queen's or anywhere else) can also get student tickets for £4.50.
I heard it has a bar
✔ You're not wrong. We were the first licensed cinema in Belfast. We've got lovely wines, lagers, fancy beers from our friends at Boundary, and the finest spirits. The bar also offers cinema favourites: popcorn and sweet treats.
You have to be a member to go to QFT
❌ Nope. There's no need to sign up for any membership. You can just walk in, any day of the week. But if you want £4.50 tickets on a Monday you can join QFT Community for free. As well as Members' Monday prices, you can earn loyalty points and get lots of great discounts with our neighbours.
It doesn't look like a cinema
✔ You're not wrong. QFT is at 20 University Square (the road to the left-hand side of the main Queen's University site). It looks like a terraced house from the outside. A little sign above the door reads Queen's Film Theatre on our listed building. Go through the door and it's like the tardis - opening out to our bar and two screens.
QFT only shows French films
❌ Nope. Although we do love French films. It's an overused phrase but we really do show something for everybody. Well, that is unless you're Michael Owen and just hate all films. We show: new films, old films, fun films, challenging films, local films, films from all over the world, documentaries, fiction.
Was Docs Ireland there?
✔ Yes. And it'll be there again 21-25 June. We're proud to be one of the hosts for a number of festivals including Docs Ireland, Belfast Film Festival, Belfast International Arts Festival, Cinemagic, Imagine! Festival of Ideas and Politics, Outburst Queer Arts Festival and more.
Isn't that cinema really expensive?
❌ Nope. Our standard adult film ticket is just £8.40. Plus, we offer concessions for seniors, disabled audiences, students, people in receipt of benefits and more. You can find a full list of our prices here.
I've seen they do special screenings for the d/Deaf and hard of hearing
✔ Yes. We aim to do at least 150 SDH (subtitled for the d/Deaf and hard of hearing) screenings a year. Keep an eye out for the symbol on our SDH screenings.
Sounds great but I've got a baby to look after
Just as well we've started Baby Pictures, a weekly slot on Friday mornings for carers to come along with their babies under 12 months old. The films are for the grown ups but the environment is altered to make it more relaxing for baby.
I've been scratching my head about who all was on that billboard
There's Margot Robbie in Greta Gerwig's Barbie, coming to QFT in July; Bruce Lee in Game of Death showing in June as part of Bruce Lee 4K; the French superheroes of Smoking Causes Coughing; the French screen queen Brigitte Bardot in Jean-Luc Godard's Le Mépris; and the growing hairstyles of John Waters' Hairspray back at the end of June.
If you've got any other questions about us you can find us on Twitter, Facebook and Instagram or send us an email at qftmanager@qub.ac.uk