How QFT Responds to Challenging Times
22 October 2020
Historian Sam Manning takes a look at QFT's near closure in 1972 and how the cinema has dealt with challenging times.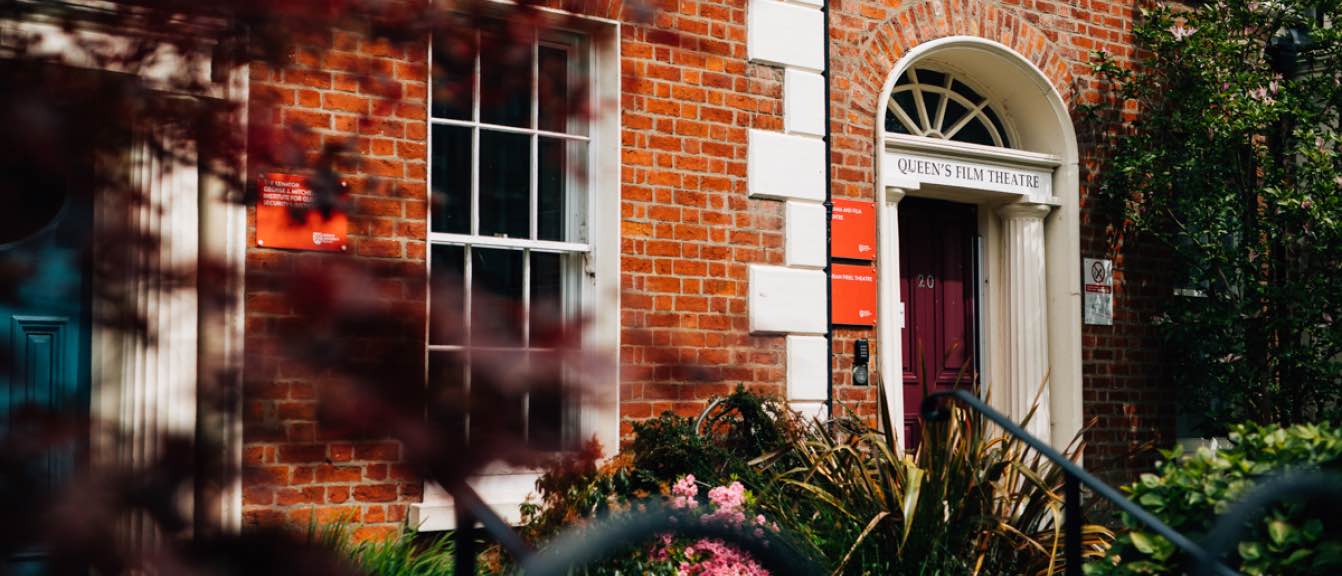 Queen's Film Theatre, a small two-screen cinema, nestled inconspicuously within a row of Victorian terraced houses on the Queen's University campus, has been a second home since I moved to Belfast eight years ago. The first film I saw here was German drama Barbara and since then I've visited almost every week (and often more frequently) to immerse myself in this unique venue and watch the best of international cinema.
As a cinema historian, I was privileged to work as part of QFT50, a project exploring the venue's history as part of its 50th anniversary celebrations in October 2018. When we completed the project, there was lots of speculation as to what the next fifty years might hold for QFT. Little did we know that in under two years a global pandemic would force the cinema to close for the best (or worst) part of five months. While I was delighted that QFT re-opened in August, last week's announcement of a further temporary closure has again interrupted my regular cinema trips, forcing me back on to the sofa. This announcement led me to think once more about QFT's history, and to consider how a previous temporary closure in 1972 might shed light on the current situation and offer hope for the future.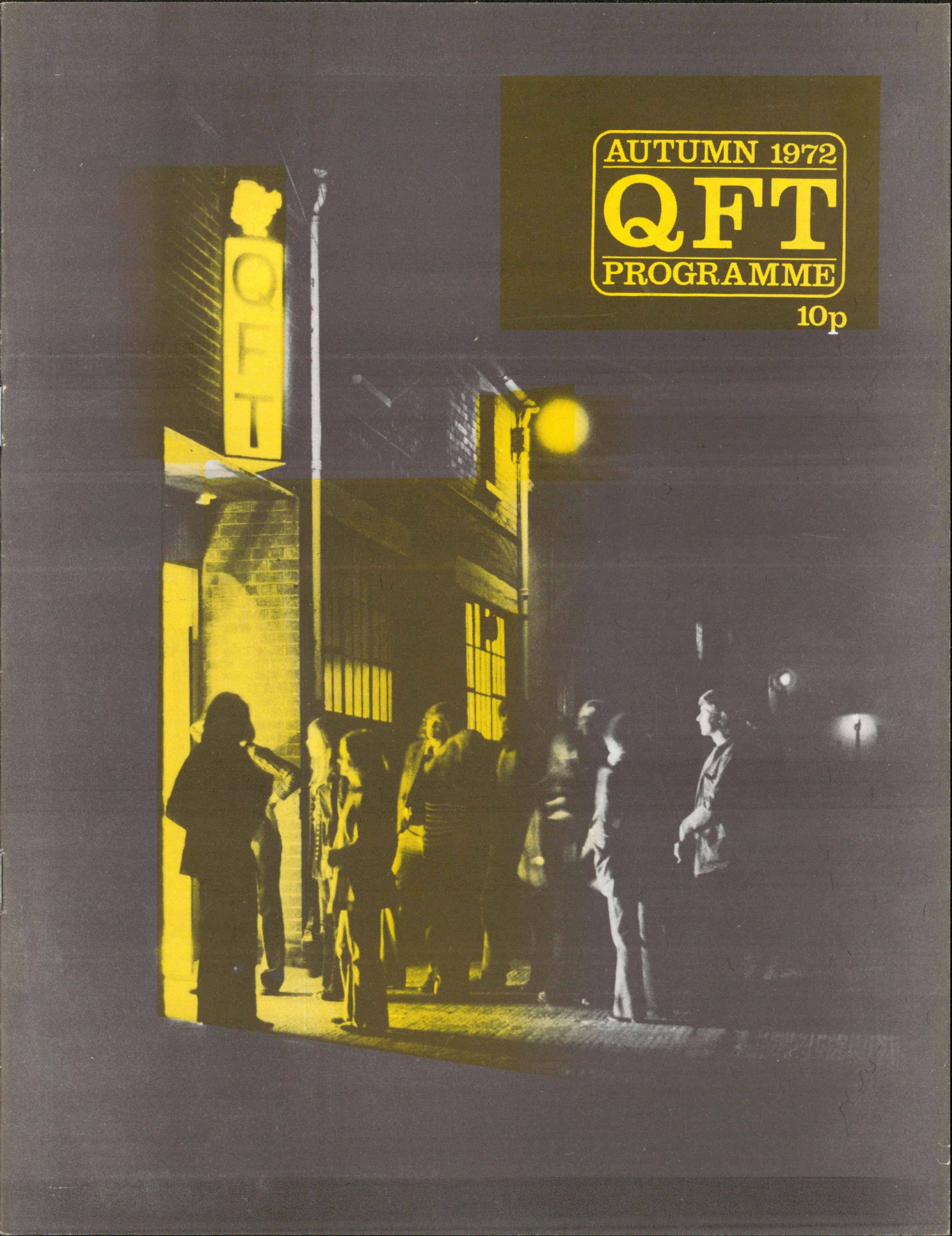 QFT founders Michael Barnes and Michael Emmerson, inspired by the introduction of Regional Film Theatres across the UK, conceived it as a self-supporting venture, offering high-quality films not screened in other Belfast cinemas. Despite attracting a loyal audience after opening in October 1968, its early years were marked by financial problems and difficulties attracting external funding. Long-time manager Michael Open's complaints to the university that QFT received less funding than its UK counterparts often fell on deaf ears. The challenges of establishing and operating a cultural cinema were also heightened by the onset of the Troubles from 1969. Following three years of financial deficit, the Queen's University Arts Centre Board reduced its season from 32 to 18 weeks, and then later marked the cinema for closure, 'subject to review in light of subsequent developments'.
A reduction in QFT's deficit, increased attendances and an extra grant from the Northern Ireland Arts Council led the Board to thankfully reverse its original decision. Following its usual summer break, QFT re-opened in October 1972. The following year was the most successful since opening its doors as admissions reached over 30,000. Audiences again increased in 1974 and would have been even greater if not for a two-week closure caused by the Ulster Workers' Council Strike. By its 10th anniversary in 1978, more than 300,000 admissions had been recorded at screenings of over 800 films. The success of QFT during this period is especially remarkable given declining audiences across Britain and Ireland, and the closure of many other Belfast cinemas during the 1970s. Since then, the cinema has improved and expanded, managing to retain its unique atmosphere while responding to changes in film exhibition and audience habits.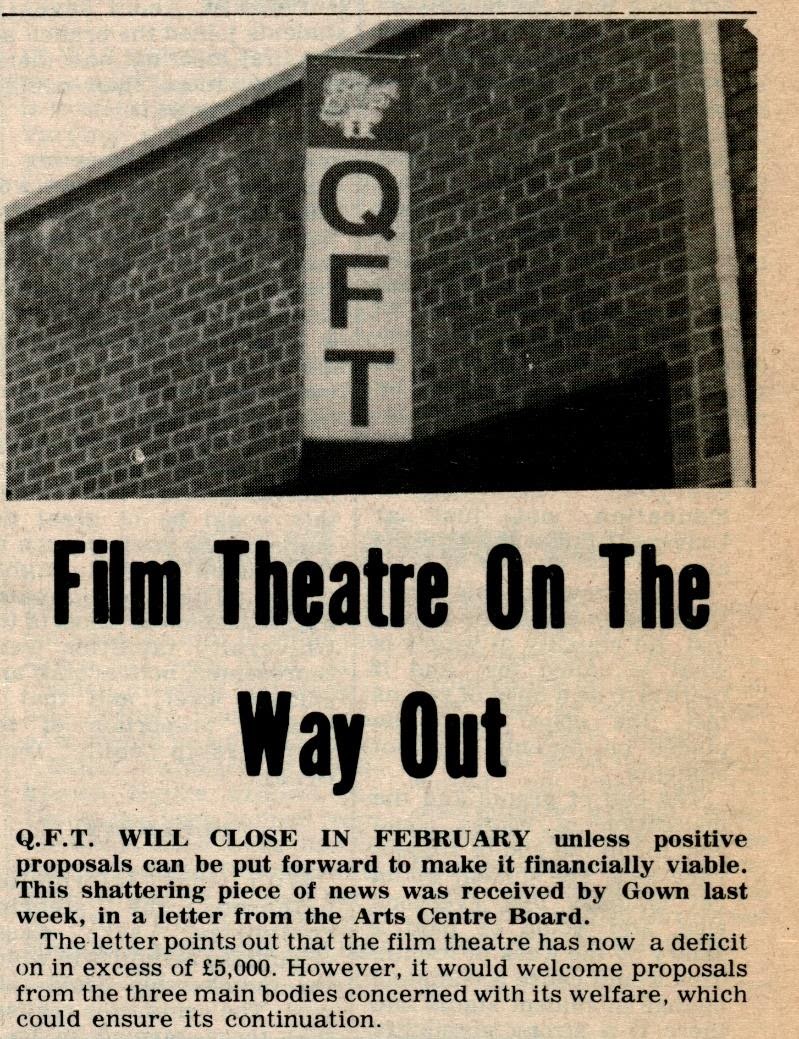 In the September 1971 issue of Fortnight, Brian Bell claimed that 'there is a real danger that [QFT] could join the sad list of community services that the community shows no signs of giving a damn about'. We are fortunate, however, that back in the early seventies the community did care about QFT and has kept it alive since then. As part of the QFT50 project, I recorded oral history interviews with dozens of cinema-goers, staff and notable visitors, past and present, about their memories and recollections of the cinema. I also toured community cinemas and libraries across Northern Ireland to speak about the cinema's history, talking to audiences about the role that QFT plays today. The most important theme that emerged from these interviews and discussions was that QFT has not just provided a place to watch films, but has played a profound role in the social and cultural life of Belfast, often during times of conflict. While there is no doubt that these are challenging times for the cinema exhibition industry, I have every confidence that when QFT reopens again it will continue to serve, and be supported by, a wide community of films lovers across Northern Ireland and further afield.
- Sam Manning