LUMI Reviews: Everything Everywhere All at Once
30 May 2022
LUMI young programmer Fionntán Macdonald reviews the audience favourite Everything Everywhere All at Once.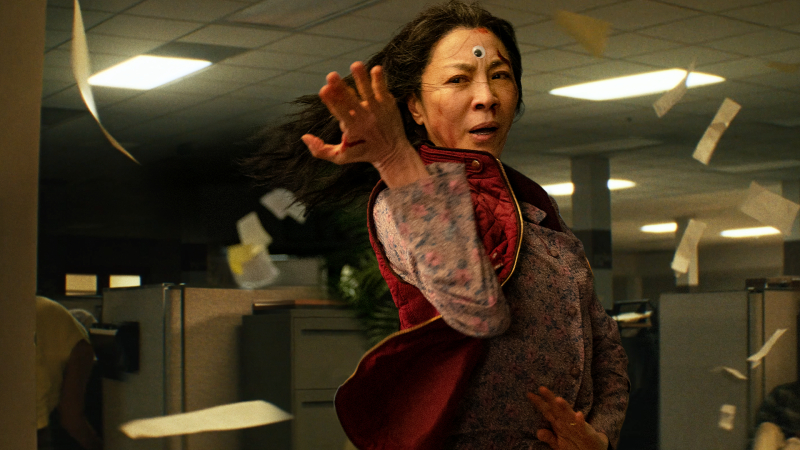 Those familiar with the iconoclastic filmmaking duo known as Daniels will be happy to hear that their new feature is, expectedly, ridiculous. It is an acid trip fever dream with a scattered focus, a narrative that is both non-linear and non-sensical, and a comedic sensibility that is bawdy, offensive and alienating. And it may just be the best film you'll see this year.
Anchored by legendary performer Michelle Yeoh, Everything Everywhere All at Once (2022) will kick you down, lift you up and rob you blind of all your expectations as you are swept away (or dragged by the hair) by a dysfunctional and desperate family's journey through a multiverse of madness.
Expectations have been high for this film since a promising trailer dropped and murmurs of media hype began to circulate, yet it is impossible to understate the importance of going into this film blind. As a pairing Daniels excel in presenting a loose but clearly defined premise to an audience before taking a series of the hardest left turns imaginable to reach an unexpected and heartfelt conclusion. This was exemplified perfectly by their previous picture Swiss Army Man (2016) but has been taken to euphoric heights with their sophomore feature. All you know is that, at its heart, this is a family story and no amount of kung-fu fighting, google eyed, hot dog fingered antics will change that (just go with it).
It is a bombastic, surreal and sublime ramble into a macrocosm of disparate genres and clashing tones yet has a surprisingly intimate focus on a family fable so touching that it will have you bouncing between ecstasy and anguish. From the gorgeously composed opening shot we understand the dynamic at play perfectly. Michelle Yeoh plays a woman in crisis; dissatisfied with her standing in life, the precarious status of her husband's business and her relationships with her family (themselves all seasoned and capable performers who have embodied their characters with distinct and vibrant personality). Said family is equally frustrated with her, fairly or unfairly, and a visit to their abrasive tax auditor (played by Jamie Lee Curtis at the height of her comedic powers) appears to be the catalyst for a familial disintegration.
This is the last thing any viewer should know about this film before the projector whirs into life.
From this point you'll be on the white knuckle rollercoaster ride of your life with each cut of this feverishly paced film feeling like a shot of adrenaline to the heart. Yeoh is an icon of martial arts cinema and her fans will be met with some vintage material from her most recent outing, but even her greatest devotees will likely be astounded by the sheer range she displays here. As a foundation for the story she is pure concrete, but there is a tenderness and compassion to her delivery that centres her in even the most ludicrous scenario (and Daniels thrive in ludicrous scenarios).
Supporting her is an exceptional cast of players that includes the criminally under-appreciated veteran actor James Hong, refreshing rising talent Stephanie Hsu and the positively revelatory Ke Huy Quan. Returning to the screen from an extended hiatus following his rise to fame in the classic Goonies (1985) and the Indiana Jones franchise, Quan plays Waymond the long suffering husband and father of the family and demonstrates an ability to steal scenes that is tantamount to daylight robbery. His take on Waymond demonstrates what a talent the filmgoing public have been missing in the intervening decades since his 80's fame and this may just be the perfect vehicle for his silver screen homecoming, by giving so much room to explore his apparently abounding talent.
Everything Everywhere All at Once is a cinematic singularity; a lone point in space and time that sucks in infinite influences and seems destined to collapse inwards but never actually implodes. Simultaneously Kubrickian, Lynchian and Kaufman-esque, the maverick minds of Daniels have crafted something that defies definition, but which is inarguably and deliriously cinematic.
This piece of art can exist in no other medium. It is an anarchic confluence of sound, performance, visual virtuosity and helter-skelter absurdism that makes for a perfectly preposterous picture show. If you care about cinema in any capacity, then you owe it to yourself to see this film as soon as possible.
Do not walk. Do not run. Sprint.
- written by Fionntán Macdonald