LUMI x Monsoon
By Conor Murray
25 September 2020
LUMI Programmer Conor takes a first look at Hong Khaou's beautiful new film Monsoon.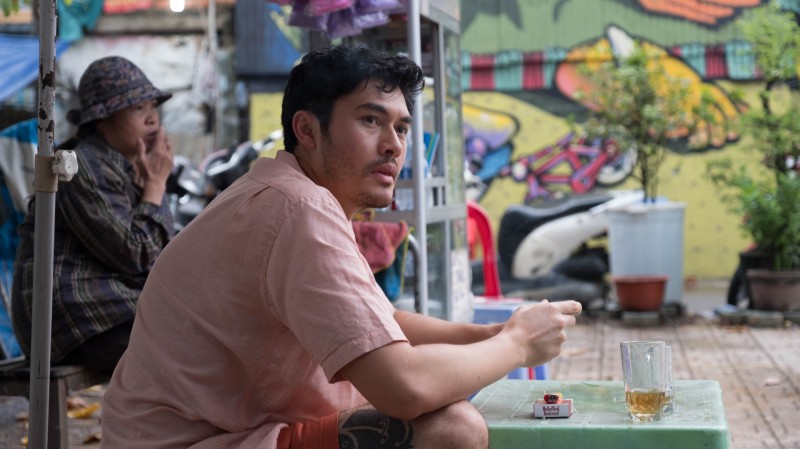 From the opening frames of Hong Khaou's Monsoon, it's apparent the setting of Vietnam and the film's protagonist Kit (Henry Golding) are very much at odds with one another. The city is bustling with an everlasting tirade of traffic, a barrage of motorcycles traversing the roads in controlled chaos, while Kit sits deeply pensive in the back of a taxi.
Monsoon follows Kit as he returns to his birthplace of Saigon, Vietnam, for the first time in 30 years to lay his parents' ashes to rest. Now a stranger of his native home after immigrating to England aged six, Kit wanders alone in the heart of a relentless city, grappling with his own identity and the weight of his family's legacy. Awaiting the arrival of his brother, he takes on the burden of guilt for leaving his native land and engages in a fraught attempt to correct things that are out of his control.
Golding's delicate portrayal of a man ridden with shame is showcased in every anxious conversation and uncomfortable gulp. A natural charm which has seen him become one of Britain's best romantic comedy leads makes way for a more subdued and rich character study. It is only with Kit acclimatising to the Vietnamese culture, confiding in old friends and forming new relations, that he begins to find peace with his past.
An encounter with old childhood friend Lee leaves Kit fearing condescension after bearing gifts of a biscuit tin adorning the Queen's face and a somewhat insulting water filter. Director Khaou uses these instances to delicately play with the concept of Western sensibilities in Vietnam, framing the entire film around a man who is both familiar and foreign to the country and its cultures. Vietnam's historical lotus tea-making is overshadowed by Saigon's now-booming art scene, delivering a more honest look at its modernity. It is in this cosmopolitan hub that Kit strikes a romance with American designer Lewis, a figure who fills a void of loneliness for Kit before the pair connect over a shared feeling of guilt.
Monsoon assures us that being a 30-something person still trying to figure your life out is normal. Khaou bears no judgement on Kit's loneliness, but instead allows him the freedom to figure his own path, with Golding wandering in and out of frame at will. His journey is not a story of redemption or correcting the past; it is simply a man's attempt to find peace with himself and rediscover a part of his identity that he thought died with his parents.

Khaou has delivered one of the year's most tender dramas that captures the brevity of legacy and cultural identity all within a beautifully hushed 85-minute run-time.