MARIANNE AND LEONARD: WORDS OF LOVE review by Mike Catto
28 July 2019
Mike Catto reviews Nick Broomfield's Marianne and Leonard: Words of Love.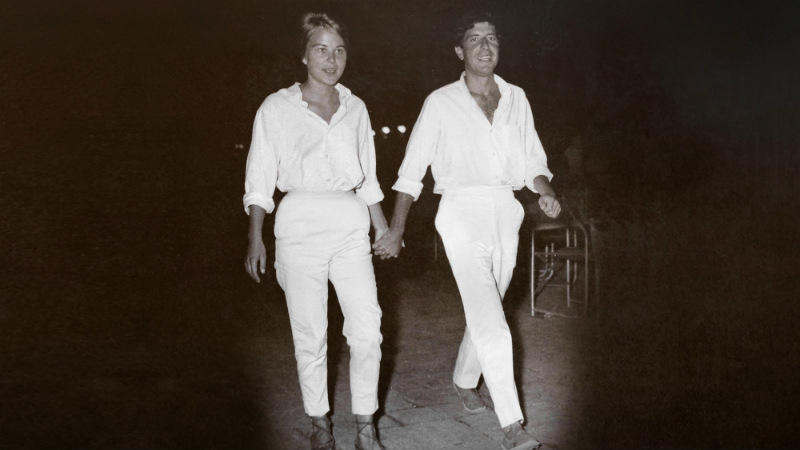 MARIANNE & LEONARD: WORDS OF LOVE Dir. Nick Broomfield Cert.12A 102mins
In 1966 a Canadian fellow uni student of mine gave me a copy of a poetic, mysterious and sexy novel called Beautiful Losers by one Leonard Cohen. I was so entranced that next year I bought the Jonathan Cape edition of his poems. All this before I was blown away in 1968 by his first album. I still have them all, and I've seen him live. This may colour what follows in this review.
Having stepped outside the traditional supposedly objective role of reviewer, I should point out that the director of this film also had a subjective connection with one of the two people in the film's title. Of which, more below.
I have been a long term fan of the documentarian Nick Broomfield. He has made many strong investigative docs (the title alone of Tracking Down Maggie – on Thatcher – is a clue) and some powerful, and non-hagiographic docs on big names in popular music and culture including Cobain, Tupac and Whitney Houston. In many of his films he appears as himself; usually carrying sound equipment and with cans around his neck. This intervention adds to the 'signature' of what we watch.
Words of Love is about the relationship between Cohen and his muse/lover Marianne Ihlen. She peeks shyly out of the back cover of Cohen's second album, Songs From A Room, 1969, when they were living an idyllic, artistic, counter-culture life on the Greek island of Hydra. The affair did not last forever. Marianne and Leonard lived together on Hydra, in his native Montreal and in NYC but then split up. This is the tricky bit. Marianne is out of the picture (literally) for much of Cohen's career, but her presence informs the structure of this film. Bloomfield admits that he too fell under the spell both of the Cythera like island of Hydra and of Marianne, with whom he had a brief dalliance before Cohen.
While, inevitably, Broomfield uses (and uses well) archive footage of Leonard the star and performer, Cohen backstage, drug and financial problems, his many infidelities, he doesn't shy away from the fact that Cohen was no gent when it came to the legacy of his youthful time with Marianne. I did not know much about her son, Axel Jr, from her first marriage, so even with all the familiar material here, there are nuggets which, incrementally, build up a powerful thesis.
Marianne herself only surfaces twice again. We all know that, for financial reasons, Cohen had to go on the road again after years of Zen solitude. There is a shot of her in the audience watching one of his comeback concerts. Gulp.
Double gulp. The film begins – and its tone infuses the whole film – with the letter he sent her in July 2016 when she was dying: "I think I will follow you very soon,,, see you down the road". He followed in November of that year. Although it obviously helps to be a fan of both Cohen and Broomfield, imbalanced as it is, this film is accessible to all. And the music is still wonderful. My only worry: will a fictionalised biopic (to quote LC himself) follow very soon ?