On the Threshold of Magic: Memories of an Usher
By Aislinn Clarke
05 October 2018
Aislinn Clarke is the director of The Devil's Doorway and also a former QFT usher!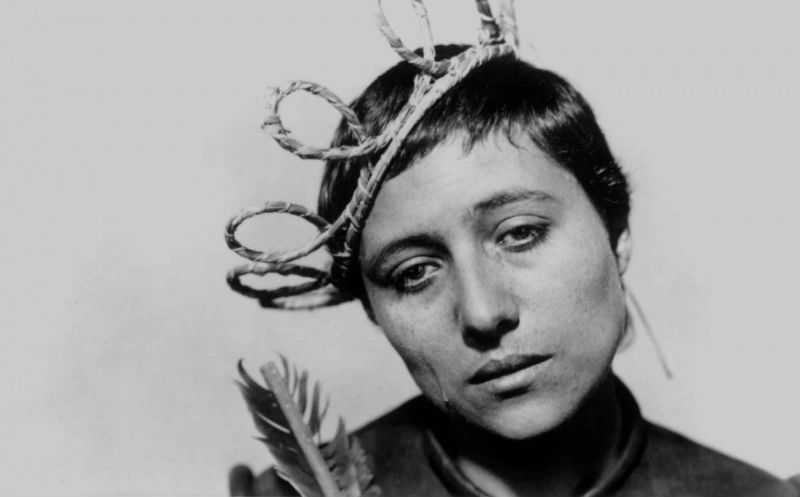 There are two filmic images that I've never been able to shake off. They're completely inseparable in my mind, two parts of a conversation that I once eavesdropped on and that I now transcribe.
One of them is a close-up of Renée Jeanne Falconetti in Dreyer's The Passion of Joan of Arc from 1928. Her eyes glisten. She is wholly vulnerable, yet completely indomitable. The camera studies her like a microscope and she is open to us down to the very soul.
The second is from Jean-Luc Godard's Vivre Sa Vie (1962). Anna Karina sits in the cinema, looking up at the screen, tears roll down her face. She's completely moved by the image she sees – a face - and we in turn are moved by her – her face.
The image of the movie-goer is well-used in cinema: we see Laura and Alec together, in Brief Encounter, and it doesn't matter what they see; Mia Farrow, at the end of the Purple Rose of Cairo, is so desperate she will watch anything. Vivre Sa Vie is different though. We stay on Anna Karina much too long. We register every reaction that moves across her face. The film off-screen leaves such an impression on her that it is almost visible on her face. It matters what this movie-goer is watching: it's Renée Jeanne Falconetti in Joan of Arc.
I saw both films for the first time in the QFT. I was studying for a degree in Film Studies. I'd shuffled between English and Irish, but Film Studies was really where I always wanted to be. No, a film-set was where I wanted to be, then a cinema, but Film Studies was tantalisingly close. The classes took place in the dark cinema space, the lecturer out of view, dwarfed by the screen: they weren't the focus, the flickering image was. Quentin Crisp called the cinema "the forgetting chamber," but I remember all of it.
I wrote my dissertation on Godard. The first time I saw Vivre Sa Vie was in Screen 1. I was then part of a cinematic triptych: Joan of Arc, Anna Karina, and us, the audience who complete the trialogue. Anna Karina is Joan of Arc and we are Anna Karina sitting – sometimes crying – in the shadows. It is an image that I would see over and over.
Because I hardly left the QFT, when I was at Queen's. I did an MA in film, then an MA in Scriptwriting, I saw every film that came in and went out. More importantly, I became a cinema ghost, a half presence, that is I became an usher, like Hopper's usherette in New York Movie (1939), threshold figure opening the door between mundanity and dream.My nominal task was ripping tickets, directing people to seats, and cutting my torchlight through the gloom, but, really, the usher and their real job is the answer to Juvenal's question: who watches the watchers? No one more clearly nor more frequently sees the effect the film has on its audience than the usher. You see the film a dozen times, with different audiences, but the faces are almost always the same, if the film is done well: they laugh at the same points, they cry at the same points. The film-maker who wants to put something on screen needs to know how people will react looking at the screen. They need to see things from the usher's angle. Which was something I learned from Godard. Which was something he learned from Dreyer.
Cinema is a conversation, between films and between the film-maker and audience. Roger Ebert called it "an empathy machine" and that's how I think of it. It's how I've thought of it since I looked directly into the eyes of Renée Jeanne Falconetti and Anna Karina. I know how they both feel on both sides of the screen. The film-maker must facilitate that conversation.
That was the thing I wanted to carry into my own work: empathy, an understanding of how the audience would react, a commitment to how sincere the actor can be. I spent years making documentaries: tight focus and close-ups on the truth, real people. It's all in the face. So, of course, my first narrative short was a silent one. It had it's first public screening in the Ulster Hall – the opening short before The Passion of Joan of Arc.
But I am especially happy to be returning to the QFT with my first feature film. On that night, I'll again be Hopper's usherette, there and not there. It seems like the appropriate place to watch the watchers watching my film. Then, afterward, to answer questions, in the room where so many questions were posed to me. I'm looking forward to it. Another night to remember in "the forgetting chamber".
Explore the full QFT50 programme here https://queensfilmtheatre.com/qft50