Review: Sound of Metal
By Richard Dougherty
01 June 2021
Design Council Expert and Board Member for Action Deaf Youth, Richard Dougherty reviews Sound of Metal, looking at how the film represents deafness and more.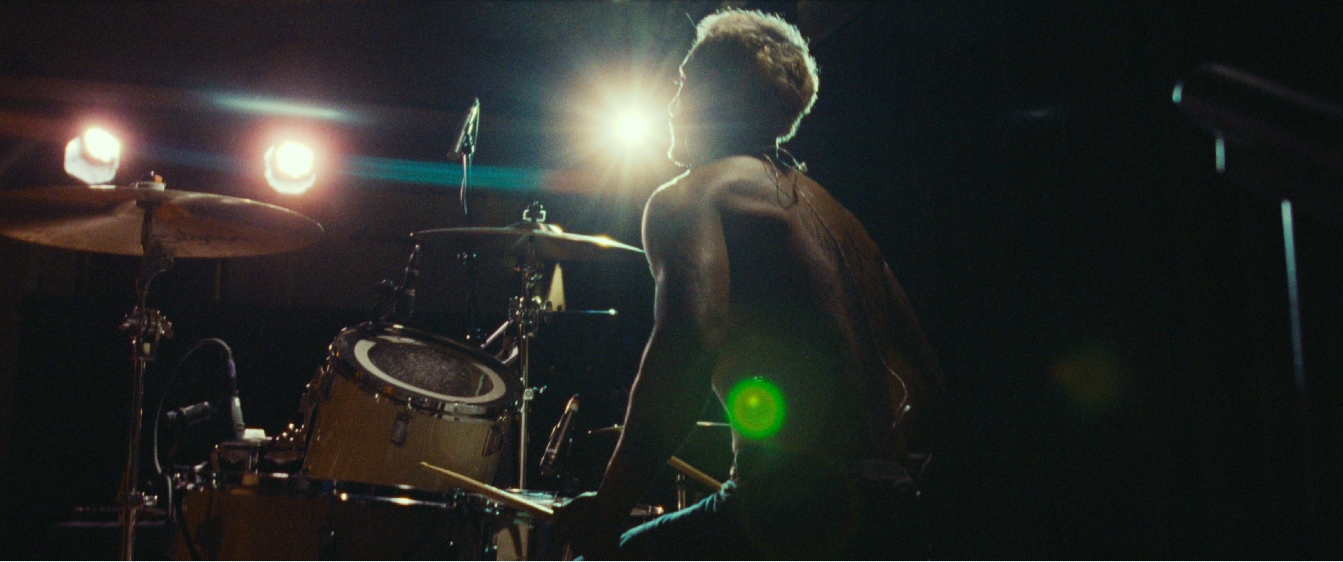 Directed and co-written by Darius Marder, Sound of Metal portrays a heavy-metal drummer Ruben (Riz Ahmed) who suddenly finds himself in a position of losing his hearing rapidly. Fearing the consequences of this physiological change, Ruben embarks on a protracted journey to restore his equilibrium.
In the scenes before Ruben loses his hearing, he launches a sonic outburst of visual and muscular energy - displaying the sort of verve and speed that you would find in a futurist Boccioni's painting. A figure in constant motion, immersed in space, engaged with the forces acting upon it. It's an enthralling and cacophonous opening to the film.
As he stares forlornly at the blank canvas covering the audiologist's mouth, Ruben comes to the realisation that his life is never going to be the same. He is advised that metal implants might offer a reprise but ultimately his natural hearing is gone.
Unable to foot the costs of the implants, Ruben is ushered to a secluded halfway house for deaf addicts. This scene is slightly lopsided as the notion of a deaf rehab house simply doesn't exist in reality. However, this slight distortion is superseded by the subtle transportation and poetic portrayal of a rich signing community with their own cultural and linguistic values.
As he gets taken under the wing of Joe – a reformed alcoholic Vietnam veteran who runs the place, Ruben slowly begins to realise that for many deafness isn't a loss but a way of being in the world where their condition is accepted as a valid alternative existence.
Joe urges Ruben to 'learn how to be deaf' by finding the stillness inside himself as a vital precondition for recalibrating his sense of belonging. Despite this, Ruben can't suppress the overwhelming urge to re-create his life as it was before the hearing loss.
Somewhat paradoxically Ruben goes on to sell his RV and musical equipment to fund the costs of the metal implants - single-handedly sabotaging his craft.
Ruben's journey with his new implants ends up tormenting him, bringing him to the realisation that the implants will never be able to replicate the sensibilities of the human ear – a sequence that is beautifully captured in his final epiphany in Paris.
There were several moments in the film that help to give it a rare sense of authenticity when it comes to its portrayal of the Deaf Community. These include the carefully chosen social infrastructures (circular dining tables to help facilitate visual communication), the mannerisms (thumping the table to get visual attention) and the considered spatial proximity between signers.
Whilst the role of Joe is convincingly played by Paul Raci, it's slightly unfortunate that given the context of the story there are not more deaf actors playing lead roles - which leaves a slight feeling of under-representation.
Another element of the story which jars slightly is when Joe asks Ruben to leave the community - as if there can only be a binary choice in being a valued member of the deaf community or a person who can only exists in the hearing world with the implants. There is no reason why both worlds cannot be bridged - implantation simply does not prevent cultural membership of the Deaf Community and neither does it 'fix' deafness.
Sound of Metal is an empathic piece of filmmaking – and its achievements are even more impressive considering Hollywood's depictions of deafness in the past.
Director Marder wanted this film to serve as a wake-up call to people who think of deafness as a physical disability when in fact there is a culture out there that deserves to be recognised and embraced.
In the contrast between the cacophony of sound at the beginning and the sound of silence at the end, Marder has successfully asked us to listen to the sound of deaf culture.
In the age of technological advances where humans and machines are slowly morphing together, there is something remarkably poignant about the perseverance of an analogue culture that embraces the different ways of being.
You can follow Richard Dougherty on Twitter @richiedougherty